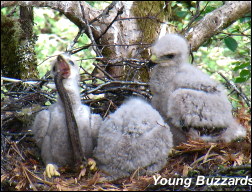 Three weeks on Islay has now come to an end and we have had only half a day of rain which is pretty remarkable in view of the poor weather back home in Rochdale.
Having spent some time before going to Islay looking for Dotterel it was ironic that the first birds we saw on Islay were nine Dotterel feeding in a ploughed field. One hour later they continued their journey further North and as they do not breed in Iceland they may well have ended up in Scandinavia.
Unlike the Pennines Islay still has good numbers of Cuckoos and at present nobody knows why they are in decline locally and not so in Scotland. It was only on the seventh attempt that I finally obtained some film of one on its song post/
One day I spent four hours in my hide at a Buzzard's nest that contained three young and an event occurred that I have waited a long time to capture on film. The male Buzzard, having already brought a vole and then a frog to the nest earlier, alighted with a large Adder that was alive and wriggling about. It was amazing to film the feed and then the young trying to swallow what was left of Adder. As shown in this week's photo.
Islay is of major importance for Corncrakes and during the Summer there are regular counts to ascertain the number of calling males. Last year they peaked at eighty one and as I was lucky enough to hear nine different calling birds on just one evening it looks like there may be even more this year.
As usual three weeks is never a long enough stay on this magical island.