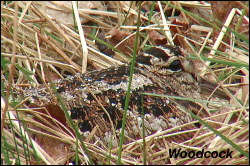 At long last, after hours of searching, I managed to find an incubating Woodcock. Unfortunately she was sat in rushes and white grass with only a handful of leaves to hide her but beggars can't be choosers and an incubating Woodcock is always the prime target for Spring.
Whilst I have won with the Woodcock I have failed to find a Golden Plover's nest for the first time in many years. Weather conditions on the moor have not helped and in addition a pair of Short Eared Owls are nesting where the Plover usually breed and they have caused some disturbance to them.
There has been a good show of Early Purple Orchids this Spring, although they are two weeks later than normal appearing. Whilst I was searching for the Orchids I came across a female Tawny Owl brooding young in a hole in the base of a tree. It is always good to find a ground nesting Tawny Owl.
In the garden three recently fledged Greenfinches were being fed by the male. Young Dunnocks have also appeared for th first time this season.