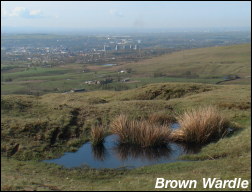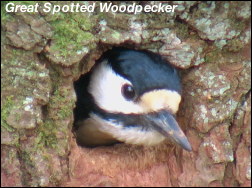 During the week I continued the search for Woodcock and Golden Plover hoping for better luck than last week. On the 11th at 1000 feet the temperature was only 4°C and coupled with the strong wind it was impossible to contemplate a walk on the moor. In fact it was the worse day I have ever seen on the moors in May in forty years.
The only good day of the week was on Sunday 6th May and as this was the Bank Holiday weekend I decided to ignore a walk up Pendle Hill to look for Dotterel and instead searched the top of Brown Wardle, a local hill in Rochdale, where nine Dotterel have turned up in two consecutive Springs. The photo above shows what a perfect morning it was but sadly no Dotterel could be found. In the evening I checked a birding website and admired some wonderful photos of five Dotterel that an eleven year old girl had taken on Pendle HIll that very same morning. Clearly, I went up the wrong hill!
Whilst searching an Oak wood for Woodcock I heard a tapping sound coming from inside a tree. The culprit was a Great Spotted Woodpecker chipping the nesting chamber.
With the cold weather it is not surprising that the garden continues to attract a good variety of birds and on three days this last week twenty or more species have fed during the day. The highlights have been up to four Redpolls and a pair of Great Spotted Woodpeckers.