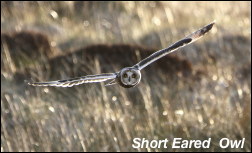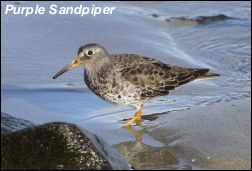 After last year's poor weather on Islay we have just had a week on the island that produced well in excess of sixty hours of sunshine. It was like the Islay of old with spectacular sunrises and sunsets and the only rain falling during the night when we were asleep.
April on Islay is a fabulous time to visit because of the mix of both Winter and Spring migrants. Nine thousand Barnacle Geese left for Greenland the day after we arrived, with Swallows and Wheatears in many parts of the island having just flown up from Africa. On the eighteenth we found the first migrant Corncrake which was followed the following day by the first Cuckoo. In contrast Brent Geese and Great Northern Divers were still present before their long journeys North as were Purple Sandpipers and Sanderlings.
Nine species of Raptor were encountered, with the male Short Eared Owl, above, performing very well as he hunted most evenings. We had some good encounters with both Golden Eagle and Sea Eagle.
A female Adder was watched in the sunshine at Ardnave. However a trip to Jura, in perfect conditions, failed to find any Otters. Our success rate in locating Otters in now about fifty percent and I have great respect for this creature that is never predictable.