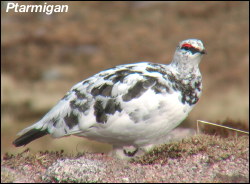 A five day non birding visit to Speyside somehow produced the Ptarmigan photo. We had decided to walk up to the restaurant at the top of Cairngorm mountain taking our two Golden Retrievers with us. Unfortunately half way up the climb we took the wrong path, making the climb much longer than it should have been. However, whilst traversing this extra bit we came across seven Ptarmigan that provided me with some good photos, even though the wind did blow my camera and tripod over on one occasion! Thankfully our eleven year old retriever just about made it to the summit and like us was thankful for the Funicular Railway down the mountain.
A day out to view the Dolphins in the Beauly Firth produced no sightings. Clearly, looking for Dolphins produces no more guarantees of a sighting than looking for birds.
The A9 is the main road through Speyside and results in considerable mortality to its wildlife. In addition to an abundance of dead pheasants we have seen the remains of three Mountain Hares and two Pine Martins. Sadly a fast trunk road is a major hazard for local wildlife.