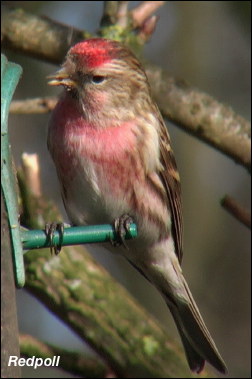 During the week I paid a return visit to a friend's garden near Huddersfield in an attempt to film the Redpolls that he was feeding. Four niger seed feeders were attracting up to fifty Redpolls including the superb male shown in the photo. Unfortunately they hardly ever perched away from the feeders to provide the shots I was after. Two hours was spent trying to obtain video of one perched before it alighted on the feeder but all to no avail. It was an incredible experience to watch so many Redpolls feeding in one small garden.
The day after what should show up on my garden feeder but a single Redpoll – the first one ever to feed in our garden. In fact the week has been good for feeding birds in the garden with at least six Bullfinches and six Reed Buntings coming at different times, the Bullfinches mainly in the morning and the Reed Buntings in the afternoon. On eight of the last eleven days we have had twenty or more different species feeding in the garden.
I have also made trips to the Ribble valley in an attempt to film breeding Crossbills. Two nests have been inspected but despite of having thirty foot scaffolding available both were impossible to film as one was forty foot off the ground and the other was on a branch over a road. One day I might obtain film of this stunning species at the nest but at the moment it still remains just a dream.