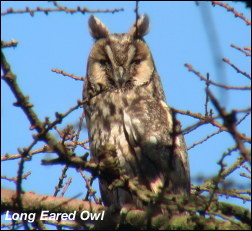 In fifty four years of recording breeding seasons this year has produced, on 1st March, the second earliest Long Tailed Tit's nest. (the record is 24th February 1999). On 2nd March in the Rossendale valley another pair of Long Tailed Tits had just started their nest in a hedgerow holly. Nearby there was a small colony of ten pairs of Herons which were incubating eggs.
On Hopwood two Woodcock were feeding close together and may well have paired off. A Green Woodpecker was very vocal but to date it has never bred on the course. A Fox was seen and five Roe Deer which augers well for their breeding season ahead.
In the garden on the 1st March we had twenty two species of birds feeding including our first two Jays of the Winter and our first two Siskins. A Goldcrest was feeding on bits falling off the fat balls on the 3rd March.
With good weather during the week some time has been spent in the moorland forests checking Long Eared Owl sites. This week's photo is of a roosting male taken 2nd March. Some of the sites are not yet occupied. On one reservoir was a female Goosander with a spinner and a nylon line hanging out of its mouth. So much for careful anglers!