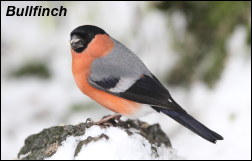 Last weekend's snow brought a new bird to the garden in the form of a Pied Wagtail and produced a record seven Bullfinches together (four males,three females) In addition the first Siskin of the Winter appeared and there were fourteen Blackbirds feeding together on one occasion. The Willow Tit is now a daily visitor.
I travelled the two hundred and forty miles to Stranraer on Tuesday to commence my four day lecture tour of the Scottish Ornithologist Club. As last year I counted the Raptors on this journey with the Buzzard continuing to increase at nineteen sightings compared to the Kestrels two and Kites one. Last year it was fourteen Buzzards, three Kestrels and two Sparrowhawks.
Loch Ryan at Stranraer was brilliant for Scaup and Pintail and I spent a good two hours at high water filming them close in shore with plenty of Turnstones even closer to hand. At Mossdale a pair of Crossbills were present, with the female collecting nesting material and being escorted back to the forest by the male to build her nest. The young forest at Laurieston produced four Blackcocks that flew over the car. These being the first I have seen on tour for many years. A good afternoon was spent filming the Kites that had now built up to more than eighty following another good breeding season.>
In a wild part of moorland forestry I was able to admire my first Great Grey Shirke for years. Better still were eight Crossbills that were bathing and drinking in a roadside pothole that had the ice broken by passing forestry venicles. I sat for an hour under the camouflage cloth awaiting their return but falling snow forced an abandonment in case I became stranded in the back of beyond without the luxury of a four wheeled drive vehicle. Another one that got away!