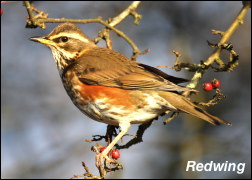 On the 9th three Redwings flew over the garden heading South West on exactly the same date that I had my first sighting two years ago. A Buzzard was circling high over the garden on the 15th and a male Great Spotted Woodpecker has fed several times during the week.
Hopwood produced my earliest ever Brambling on the 14th as a single male flew over in the South West direction calling loudly. This was followed on the 15th by a single Fieldfare. At least ten Bullfinches were present on 15th along with Redpolls and Siskins. A Green Woodpecker called on the 14th and we had our first frost of Winter early on the same day.
The early part of the week was blessed with three days of rain so some time was spent on the new Raptors DVD.