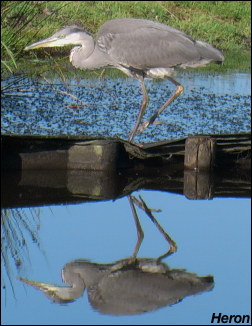 This week's photo is of a Heron that I filmed on the Rochdale Canal in Castleton. Normally Herons can be wary birds but this one would tolerate being looked at from across the canal. It was the best day of the week weather wise and the Heron produced some good reflections as it patiently hunted the canal verge.
Whilst I was at Thornham Cricket Club this week I noticed good numbers of House Sparrows dust bathing and feeding in an area of gravel. A quick count indicated at least fifty four present which is the largest number I have seen locally for some time.
With no food going into the garden there is nothing to repost except that the male Sparrowhawk still comes but only a couple of times a day and of course leaves empty handed. A Wren was present one day and a Speckled Wood Butterfly.
On Hopwood charms of twenty plus Goldfinches are present and young Swallows are still in a nest in the golf club buggy shed. A Whitethroat was giving alarm calls so may still have a second brood.