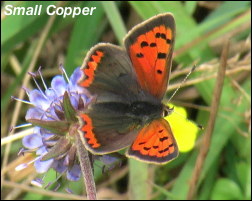 The entries for the last two weeks about the record numbers of birds in the garden all pale into insignificance with the outbreak of Trichomonosis amongst the finches. The last straw came with both male and female Bullfinch becoming infected and I was able to pick up the female to save it from being taken by the male Sparrowhawk who is still catching two to three, mainly sick birds, each day. So after forty three years of feeding birds in the garden we stopped putting food out to hope the disease and the Sparrowhawk go away.It was a hard decision to make and the Wood Pigeons still cannot understand why there is no food for them!
The calm and sometimes warm weather last week has been perfect for butterflies and I finally made my way to Norden in search of the elusive Purple Hairstreak. Many Oak trees were scanned but all to no avail, only an abundance of Speckled Woods and Small Coppers, with the odd Comma and Peacock enjoying the conditions.
The big news on Hopwood was that alarm calls from feeding Swallows produced a fast flying Hobby – my first sighting this year. It was gone in a second and with no camera to hand it still remains my most elusive raptor to capture on film. Last week two Peregrines were on the course with one being a juvenile, perhaps spreading out from Rochdale Town Hall.