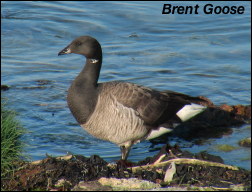 Our second week on Islay has been typified by the wind conditions that were not favourable to hunting raptors. The male Hen Harriers were leaving it late to find food for their incubating females. One food pass was at 9.25pm which is exceptionally late, being a good fifteen minutes after sunset. The male Short Eared Owl that we were watching last week fed his female at 10pm and we were unable to watch her back to the nest in the darkness.
One solitary Brent Goose was left on Islay because of slight damage to its flight feathers and will not now be able to join its relatives in the Canadian Arctic. Wheatears and Grasshopper Warblers were numerous and very vocal as were the Cuckoos and more film was taken of them.
Back home in the garden two Carrion Crows have been feeding with Wood Pigeons. sadly this year there are no breeding Tits in the nest boxes.