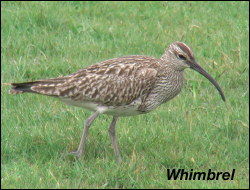 A week on Islay with five days of full sunshine but always a strong East wind,
There has been a brilliant passage of Whimbrel with up to thirty two in one feeding flock. Amongst them have been Black Tailed Godwits now in full breeding plumage, with all of them feeding rapidly in readiness for the long flight to Iceland.
Three days have been spent searching for Otters and whilst we have seen them on two of those days no film was obtained. On one day a dog Otter was making its way on to the shore to sleep when a car turned up and the occupants walked down to the sea. Needless to say that was the end of filming for that day!
As expected the Spring on Islay has been very early and Cuckoos are calling all over the Island. Some film has been obtained but never enough.
Good views have been had of Golden Eagle, Hen Harrier and Corncrake. A lot of time has been spent watching a hunting male Short Eared Owl but he gave nothing away as to where his female was.