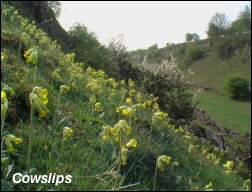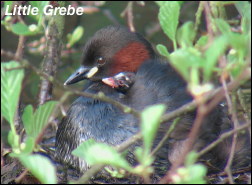 With sunshine all day and daily temperatures in excess of 20°C this Spring is set to break all records. It must be an unique contrast to have Dotterel on Pendle Hill and the same day (22nd) Waxwings in Rochdale! Surely that has never happened before?
A day out in Derbyshire produced dales full of Cowslips but failure in my search for Water Voles on the Cromford Canal. I did however obtain some good film of a Little Grebe with a young on its back.
In the high Pennines a Woodcock was encountered but it was only a feeding male with no sign of the sitting female. A pair of Ring Ouzels have laid their first eggs on a record early date (20th) others are only just arriving from their migration.
I spent one day in the Ribble Valley filming Pied Flycatchers. The female would fly to the nest box with nesting material as the male sang to her from outside the box. It is a great song and the wood was full of singing males.The sunshine has brought out masses of Orange Tip Butterflies and on the moors Green Hairstreak Butterflies have emerged much earlier than normal. At my usual Adder site a large female was enjoying the warmth and with moulted skins nearby others have also been active in the exceptional conditions.