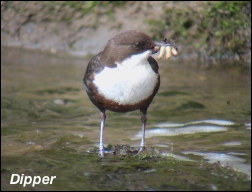 It is now six weeks since I found my first Dipper's nest of the season and the young have just fledged. During that time less than one inch of rain has fallen leading to probably the most successful breeding season they have ever had. I have spent several days awaiting the young fledging but as usual they have eluded me.
Several visits have been made during the last week to the Ribble Valley to continue the search for Woodcock but none have been encountered. On the plus side there were plenty of Redstarts and Pied Flycatchers singing in the woods, with my first Common Sandpiper of Spring feeding on the river.
I have now finished my film shows for the Winter season with the Pennine Birds DVD having sold very well. It is now being sold at the Yorkshire Dale Field Center in Malham, one of the most prestigious places in the Pennines and it is still available through my website..