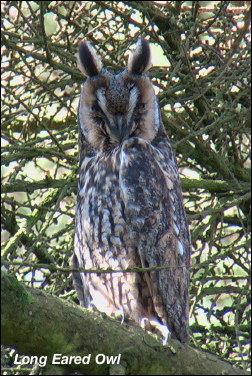 The thirtieth species to visit the garden this Winter proved to be a new bird in the form of a male Pheasant. Where it has come from is a mystery as none have been seen in the forty three years we have lived in the area. Its life expectancy is probably not that long if the local Fox has anything to do with it!
In the last week some time has been spent in the annual search for Lesser Spotted Woodpecker and Woodcock but so far to no avail. As I didn't find the nest of either last year perhaps the odds are in my favour this year?
It was good to sit in a hide at a Kingfisher site during the week. The aim was to film copulation and although this did occur during my visit it was too far away from the camera to film.
This week's photo is of a male Long Eared Owl roosting close to its female who was down on eggs in an old Magpie's nest. This pair always run the gauntlet of disturbance from campers and Easter this year is going to be a particularly bad time for them with it being so late.