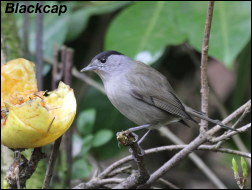 It has taken forty three years but finally a male Blackcap has appeared in the garden to feed. So the apples I put out to attract the Waxwings have proved useful after all! Three days this week we have had more than twenty species feeding including a record four Reed Buntings on the eleventh.
The breeding season is now well underway and during this week I have found the nests of Long Tailed Tit, Tawny Owl, Wood Pigeon and three Dippers, two of which were already incubating eggs. When will the first Summer visitor arrive?
On Hopwood a Woodcock was present plus one solitary Redwing. Both might soon be on their way to their Scandinavian breeding grounds.