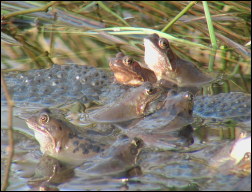 We have had more than twenty species of birds in the garden, on any one day, on two occasions this week. On the 3rd March they peaked at twenty four different species, a garden record. Amongst these were a record five Siskins along with three Reed Buntings, a Willow Tit, Nuthatch, Great Spotted Woodpecker, Sparrowhawk and all the commoner species.
Frogs are now spawning in many places with over a hundred together on Hopwood where this weeks photograph was taken. Also on HOpwood on the third March was a Green Woodpecker searching for ants on the ground and a Woodcock was also seen.
A visit to the moorland plantations showed Long Eared Owls in their breeding sites but there was very little evidence of voles this year. The upland reservoirs have still got good numbers of Goosanders and Goldeneye. More than fifty Fieldfares were present in one forest and Siskins are everywhere. A constant stream of Skylarks are now returning to the hills and it promises to be an early Spring.