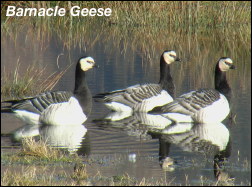 This week has been my annual film tour of South West Scotland. I drove two hundred and forty miles to Stranraer and decided to note how many raptors I saw en route. It proved conclusively how the Buzzard is now our commonest bird of prey and how the last three severe Winters have had a devastating effect on the Kestrel. The totals were fourteen Buzzards, three Kestrels and two Sparrowhawks. I arrived in Stranraer to watch the Starlings wheeling over the pier as they flew to roost under the pier. Two Peregrines were fighting over one that they had captured.
At the Loch Ken Kite feeding station there were more than seventy KItes coming to the food put out for them. In the severe weather in December apparently there were as many as one hundred and forty present! I also visited the RSPB reserve at Mersehead to admire the Spitzbergen Barnacle Geese (see photo) and dozens of Pintails.
Prior to my film shows each evening there was much talk about the Big Garden Birdwatch and some of the birds seen during the hours count. One garden had more than two hundred House Sparrows, another had more than one hundred Bramblings, another had seventy plus Siskins and yet another had twenty four Yellow Hammers. What a difference to the gardens around Manchester.
In our garden this week there have been two Siskins, the first of the Winter and a record twenty one Collared Doves. The Willow Tit still appears occasionally.