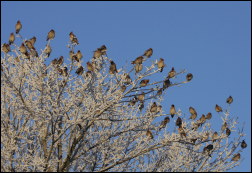 It is good to know that around South Manchester there are still over five hundred Waxwings present in flocks of up to one hundred and sixty strong. Around Rochdale there are very few with one seen today on a drive to Hollingworth Lake.
After mentioning last week that there were very few Jack Snipe around it was a pleasant surprise on the 31st January to come across two only twenty feet apart on Hopwood. It had been -5°C overnight and these are the required conditions to bring Jack Snipe together in iron water ditches. As soon as the frost had gone the following day there were no Snipe to be found.
The Big Garden Birdwatch last weekend was undertaken in very mild conditions with very few finches present. We did, however, log 11 House sparrows, 2 Redwing, 4 Bullfinches, 1 Song Thrush, 9 Blackbirds, 6 Blue Tits, 1 Chaffinch, 6 Collared Doves, 1 Dunnock, 2 Goldfinches, 4 Great Tits, 2 Robins, 6 Starlings, 1 Woodpigeon and 1 Willow Tit during our one hour watch.