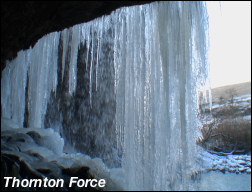 Thornton Force that is, as seen in the photo taken from behind the waterfall with most of its falling water frozen. In the last eight days we have had seven nights when the temperature dropped to below minus 10°C. This has never happened in my life time before and with most days sunny and still below zero it has produced fabulous filming conditions. So much so that in the last two weeks I have taken over three hours of video something I might only do at the height of Summer.
The star turn has to be the re- appearance of the Willow Tit in our garden on the 24th . It is now feeding daily and making its fourth annual visit in the last five years. The question is of course where has it been in between its visits to our garden and is it the same bird than originally came in November 2006?
One day I visited Leighton Moss to look for Bitterns, all to no avail. However, I did see several Bearded Tits and better still filmed seventy Waxwings feeding in the snow on fallen apples. It was a magnificent sight and one I have not filmed Waxwings doing before.
On Christmas Eve we drove around the Ribble and Hodder valleys with both rivers being mainly frozen over. Again it was something I have never seen before and you have to feel sorry for the Dippers and Kingfishers and hope they have somehow survived these exceptional conditions.
At 10am on Christmas Day we had our customary walk around Hopwood with the temperature still only -12°. Sparkling frost covered the snow in conditions normally only seen in Scandinavia and the Alps. We did see three Roe Deer, Woodcock and Jack Snipe together with a solitary Goldcrest but what chances of its survival?
Locally this Winter Fieldfares have been in short supply but on the 22nd I noticed a group feeding on a single Hawthorne only a few hundred yards from my home. It was in the middle of a snow covered field and my greeny brown hide was not exactly camouflaged. However, I thought I would give it thirty minutes to see if they would return to feed. What happened in the next two hours was sheer magic as they all fed on the snow covered berries in full sunshine. I took forty two minutes of video in what was the best filming of Fieldfares I have ever had in forty years!