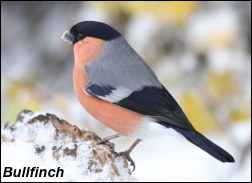 The male Bullfinch in the snow was photographed in the garden this week. He was one of five different Bullfinches that have fed in the extreme conditions. We also had nine Blackbirds together one morning plus a Song Thrush, Nuthatch and Reed Bunting. On the nineteenth a Fox was at the back of the garden for some time before appearing at the back door!
The extreme conditions on Hopwood have produced Jack Snipe, Woodcock, Buzzard, Goldcrest and surprisingly plenty of Wrens. I wonder how many of these will be around at the end of Winter?
During the week I made an abortive visit to the Lake District looking for Hawfinches, a bird that has always eluded me and still does! A week without seeing a Waxwing has been hard to endure.