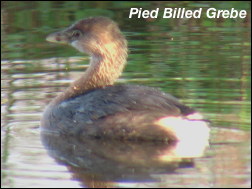 I suppose I had to eventually give in and go and have a look at the Pied Billed Grebe at Hollingworth Lake. I took one quick photo through the video camera as shown and some video which has now been edited into the Pennine Birds DVD. It was interesting to see but give me a Waxwing anytime! As I was leaving someone arrived from Nottingham so it is still providing a big attraction to the twitchers.
The garden has been busy this week with maximum counts of three Carrion Crows, three Bullfinches, three Jays, five Chaffinches, five Long Tailed Tits, seven Starlings, fourteen Collared Doves and fourteen Blue Tits. On one day we had twenty species of birds feeding which is always a milestone for a small garden.
All our time this week has been spent on the Pennine BIrds DVD which is now nearing completion. My gallery of photos on the website has also been updated during the week – have a look.