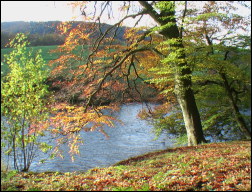 The Autumn colours seen on the river Hodder in Bowland are the subject of this week's photo. It is my favourite Pennine river and the colours this Autumn have been exceptional due, so I am told , to the dry sunny Spring that we had this year.
Whilst I was wandering along the river I came across the footprints of an otter which was good to see , so let's hope the mink of yesteryear have all been driven off by the otter. A good look at the Waxwings, at Barrow, on my way home recharged my batteries for a while.
I have made no moves just yet, to go to Hollingworth Lake to see the Pied Billed Grebe as I do not wish to line up with a hundred or so twitchers to tick off a new bird. I may go during the week when they have all gone back to work!
On Hopwood thirty plus Greenfinches going to roost at dusk was good to see, bearing in mind the health problems that has beset this once common bird.