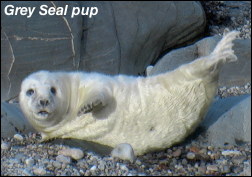 This weeks photo is of a Grey Seal pup on Islay, the first I have been lucky enough to encounter in Autumn. A trip to Islay in Autumn is always a spectacular event but you must be prepared for some wild weather. Out of twelve days on the island we had three perfect days with good sunrises and sunsets but in contrast we had nine wild days when more than three inches of rain fell, so be warned. The consolation is however that you can still bird watch from the car in pouring rain. In fact I am willing to bet that most Autumn birdwatchers to Islay don't even leave their car to go for a walk!
I never thought I would see the day when I saw my first Waxwing of Winter before I saw my first Fieldfare. However, back home in Rochdale that is exactly what has happened. Today, the seventh of November I found six Waxwings in Oldham and I have yet to see a Fieldfare locally. Are we going to have the best Waxwing Winter ever? Let's hope so.
In the garden a Collared Dove was taken by a female Sparrowhawk and there has also been a male Sparrowhawk hunting in the garden this week. A male Bullfinch has made a welcome return in the last few days to feed.
On Hopwood there are good numbers of Redpolls, some Siskins but to date no migrant Woodcock. Perhaps they will come in soon with the Fieldfares?>