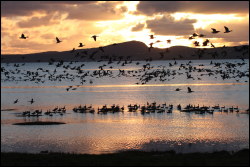 A week on Islay coincided with the arrival of 30,000 Barnacle Geese from Greenland. The wonders of migration are shown nowhere better than on Islay, for as these geese arrive four Swallows were having a last feed before leaving for South Africa. Todays photo shows some of the Barnacle Geese coming to roost on Loch Indaal at sunset, one of Scotland's most spectacular sights in Winter.
Our week has brought sightings of Merlins, Sparrowhawks, Hen Harriers, Peregrine, as well as two sightings of KIngfishers, a bird that does not breed on Islay.
Whilst the weather has been quite wild it has not stopped us finding Otters and the first Grey Seal pups we have ever encountered on Islay. More than twenty species of flowers have also been found.