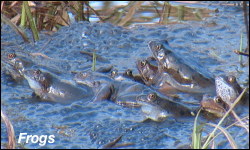 Yes, at least three weeks later than normal, the frogs in a local pool were all active on the 16th. There were at least a hundred involved and the sound effects would have been great but for the motorway near by!
On the fourteenth a female Long Eared Owl was already incubating eggs in an old crow's nest – making it the earliest laying date I have known for this species. As we know it is the supply of voles that governs the breeding of our Owls and not the severity of the Winter. However, upon checking a Heronry in the Rossendale Valley I find that instead of the ten nests that were there last year there is only one pair, that is a ninety percent reduction due entirely to the Winter we have just had. It is going to take some years to recoup this loss.
In very warm conditions on the sixteenth a pair of Buzzards were using the thermals as a Green Woodpecker yaffled nearby. The following day I flushed two Woodcock and saw a Fieldfare and nine Redwings so these migrants have decided not to leave us just yet.
I now have three Long Tailed Tit's nests being built in Hopwood woods , the first being started only one day later than last years date and it is very pleasing to see so many around despite the coldest Winter in thirty years.
In the garden the Willow TIt continues to feed every day together with two pair of Bullfinches.