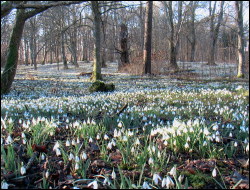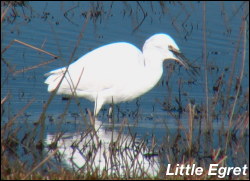 We are now home after another week on Islay with brilliant frosty, sunny weather and one day with another four inches of snow – just what the doctor ordered.
This weeks photos show the woods at Bridgend covered in snowdrops that have withstood days of minus 4º and four inches of snow. The Little Egret at Gruinart is also shown as it swallows prey taken from the ditches on the RSPB reserve.
During our travels around the island we have seen most raptors but no Eagles this time. Good views have been had of Brent Geese, Grey Plover, Purple Sandpiper, Twite, Whooper Swans and many more. Fours otters have been seen in total but only the one really performed for us.
We were so tuned in to looking for Hen Harriers that as we passed the Loch Fyne restaurant in Argyll on our way home we observed a female flying overhead!!!