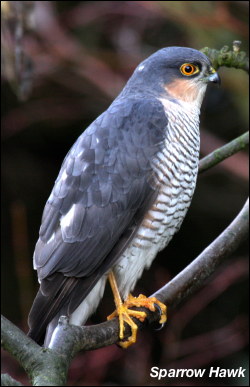 Yes this male Sparrow Hawk had his second Robin of the Winter in the garden this week. I know he has to live but I wish he would go somewhere else!
Last week I have been on my annual film show tour of South West Scotland with the best weather I have ever had for this tour in more than twenty years. The Kites at Loch Ken continue to increase annually with more than sixty coming to the feeding station each day. The number of young reared last year was apparently twice that of the year before and on that basis the prospects for the future look very good.
During my travel around South West Scotland I enjoyed watching a flock of one hundred and sixty Scaup at Stranraer, a Hen Harrier and Crossbills at Mossdale and on the last evening the spectacle of a million Starlings going to roost at Gretna Green.