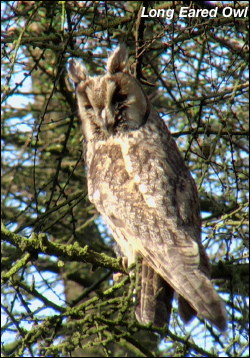 Severe frost early in the week but now somewhat milder as I made a first visit to some of the moorland plantations. In one a single Long Eared Owl was found but only thirty foot away from it a pair were together and apparently ready for the breeding season ahead.
Whilst there are still Jack Snipe and Woodcock about there is now a steady passage of Skylarks returning towards the hills and perhaps they know that Winter has finished? We shall have to wait and see.
There has been some movements of Pink Footed Geese in recent days with skeins of up to two hundred generally moving in a North west direction.
In the garden a party of nine Long Tailed Tits fed briefly so these have survived the severe weather of the last six weeks and will pair off to breed in a little over four weeks time.