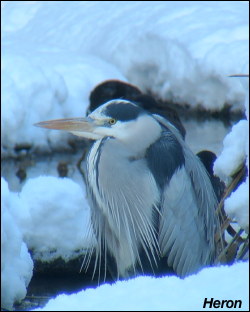 There is still no let up in the severe weather with keen frosts on most nights this week and I wonder how many Herons will be left to breed next month when the season starts.
With the continued Winter weather both Woodcock and Jack Snipe are still around trying to find somewhere to feed that is not frozen. On Hopwood a Green Woodpecker was watched twice on the 31st trying to find ants in the ground. A Buzzard was also present.
In the garden both female and male Sparrowhawks have been present during the week, the male catching prey and devouring it on the 30th. However, neither were present for the National bird count on the 31st which was highlighted with the presence of twenty seven House Sparrows and two pairs of Bullfinches.
On the 30th at Ogden we watched a Little Owl sunbathing in the afternoon sunshine on the best day of the week.