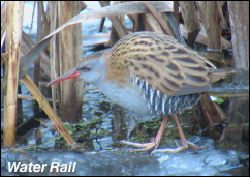 This week's photo, taken through the video camera, is of a Water Rail on the ice at Elton reservoir – a fitting climax to my best ever season in thirty nine years of filming wildlife. On the same day I also had great views of two Kingfishers that desperately tried to find somewhere that was not frozen. The last two weeks have proved to be a severe test of their survival into the New Year.
On the twenty first of December , whilst waiting for the train at Castleton railway station a male Blackcap was looking for food in the bushes – the only over wintering Blackcap I have ever seen locally.
After last weeks comments about Long Tailed Tits three appeared in our garden on January the second, in the blizzard. I fear for the large numbers that are missing from the post breeding flocks.
Virtually all the Woodcock that were present several weeks ago have now left the local woods, due to the deep snow, and are probably now along the coast.
I would like to take this opportunity to wish all my readers a Happy New Year.