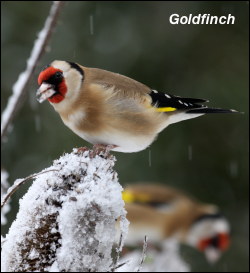 On the nineteenth of December I had the best local day ever for two species of wader with four Jack Snipe together in the Thornham fields and an amazing ten different Woodcock in Hopwood woods including five together!
Following the nineteenth we had snow, in fact ten inches fell in four days followed by minus ten degrees,. I sat four hours from 7.00am in my hide and obtained some spectacular film of Snipe feeding along the only stream not frozen. I have been filming at this stream for nearly forty years and have never really felt the cold. It is in fact thirty years since I put a hide up in the dark and hoped that Snipe would fly in to feed at dawn and thankfully they did not let me down with eight Snipe present along the steam but always feeding apart. Realistically this may be the last time I ever put my body through these extremes as I am not getting any younger!!
This weeks photo is of Goldfinches feeding on the teasels in our garden during one of this weeks blizzards. We have also had two Carrion Crows feeding, a female Bullfinch and a record five Robins at once on one day. There was a maximum of twenty three Goldfinches and twelve Blackbirds also during this week with a single Song Thrush.
In Hopwood woods during the snows there have been Kestrel, Buzzard, four Redpolls but sadly the Long Tailed Tits have gone silent or are the conditions too extreme and they have died? Let's hope not.