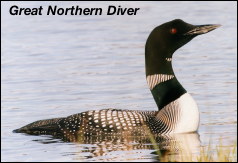 Not quite as spectacular as this photo of a Great Northern Diver in Summer plumage but it was good to see one at Hollingworth Lake this week. It has been there now over a week which is a long time for a vagrant passage bird.
In Hopwood this week a large party of Tits comprised of a least twenty one Long Tailed Tits – the most I have seen together locally for many years. A Woodcock was also flushed on the fourteenth and a Green Woodpecker seen on the eleventh. One flock of thirty two Fieldfares is still the biggest I have seen this Winter and all the berries are still waiting to be eaten.
In the garden there is now a young female Sparrow Hawk coming as well as the old male bird. She spent some time one day trying to entice the House Sparrows out of the thick privet hedge but with no success.