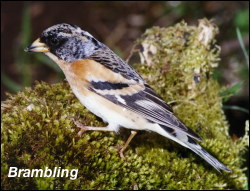 Last weeks note about the Sparrowhawk was somewhat premature as he returned twice during the week and on one occasion he caught a Goldfinch on the rockery at the back of our garden! Despite all this the Collared Dove total has now increased to fifteen and there seems to be no end to where they are coming from.
On Hopwood a Buzzard was seen on the seventh. Flower wise there are still Foxglove and Red Campion in flower – global warming I suppose.
It has rained nearly every day this week with more than two inches having fallen. There are still very few Winter thrushes about and it looks like Bramblings are going to be the star birds this Winter.