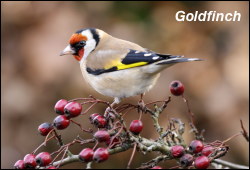 On the sixth of October I saw my first Redwing of Autumn, making it six days later than last year which is late in view of the mild Autumnal weather we have been having in the last few weeks. No Fieldfares yet though but with North East winds forecast perhaps next week?/p>
At Hopwood a male Stonechat was present on the tenth as well as a Red Admiral butterfly.
As we sat in the garden, drinking coffee, one day during the week thirty two Goldfinches and seven Greenfinches continued to feed only twenty foot away! Hard to believe that fifty years ago Goldfinches were rare birds locally.