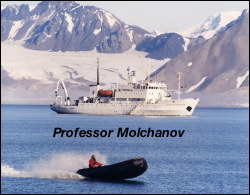 The next two weeks I am in Spitsbergen, cruising the fiords on the Professor Molchanov and making shore landings by way of zodiacs as shown in the photo.
The aim is to obtain good views of such things as Polar Bears, Walrus and Ivory Gulls but nothing is guaranteed. On last years visit the weather was exceptional (see July 08 blog) but I notice that this year, snow and sub zero temperatures are predicted!
Recently in the garden the male Sparrowhawk has visited along with Greater Spotted Woodpecker and the almost daily sightings of the Willow Tit.