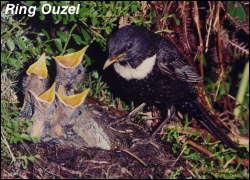 All week it has rained with a strong wind blowing over the hills and once again it was impossible to consider filming the Golden Plover – today the young fledged. We shall now have to wait until next year!
The highlight of the week was obtaining film of the Ring Ouzels. The female is on eggs but every hour or so the male calls her off the nest to feed her. He then visits the nest, inspects the contents and leaves when she arrives back to continue incubation. Its a long wait for a few seconds of film but it's the only one I have.
I spent several hours on the only dry night filming Tawny Owls bringing food to their two young in a hole in a Rowan tree. They were nervous at first but the female was quite bold by the time I packed up. It's a pity I only managed one night at it because of the weather
The good news of the week is that the Long Eared Owls that deserted their eggs because of the campers at Easter have relaid in the same nest. With another Bank Holiday coming up and good weather forecast surely there will not be a repeat performance?