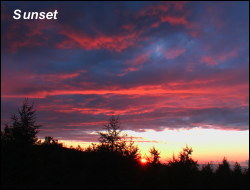 One of the bonuses of being out there in the wild is that even when the birds don't perform the weather can. This photo of a Pennine sunset was the only highlight of a night waiting to film hunting male Long Eared Owls. The birds failed to perform but after an evening shower the pink in the sky was magical.
It has been a wild week with only one day good enough to venture above one thousand feet. So the search for Merlin, Ring Ouzels and Golden Plover has been put on hold.
The big bonus of the week was filming Lesser Spotted Woodpeckers that were incubating eggs in a tiny hole thirty five feet off the ground. The bad news was that is was over in Yorkshire and they only changed over on the eggs every hour and if you blinked you missed it!
The farming weather forecast for the week is not too good so the calm weather that is needed to go up onto the high moors is going to be hard to find.
On the migration front it was good to see Swifts today and the first Whitethroats singing.