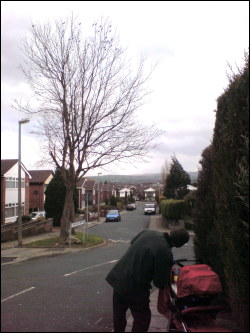 Just imagine seeing your first Waxwing at eleven weeks old. That's forty three years earlier than I saw my first Waxwing! Well I couldn't resist taking my grandson,Marcus, two hundred yards from his home in Heywood to see twenty seven in a tree in the next avenue. What a privilege but will he remember?
On the twenty fifth there were eighteen briefly on a yellow rowan in Middleton but were these the same Heywood birds that have now been around for nearly a month?
In the garden both male and female Bullfinches have appeared briefly so they are still in the area. Also the Willow Tit and Goldcrest are still around.
A motorway trip to Stoke produced four Buzzard sightings and a nice flock of at least seven hundred Lapwings in a neighbouring field at Sandbach. Sorry couldn't give an accurate count passing on the M6 at eighty mph!
On Hopwood sixty five Magpies were roosting in willows at dusk on the thirty first.