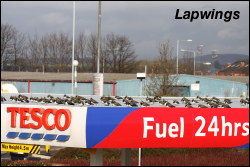 This photo shows part of a flock of one hundred and forty Lapwings that spent several hours on the roof of Tesco's petrol station in Oldham. They are normally on the roof of the Indian Ocean restaurant nearby!
It was good to see the return of the Willow Tit to the garden this week with several visits but only briefly
On Hopwood on the twentieth the Redpoll flock had increased to thirty two – feeding from birch tree to birch tree. A Woodcock was also present
A single Fieldfare feeding on hawthorne berries provided me with some film on the twentieth until a dog walker with two alsatians brought it all to an abrupt end. It was still there the day after but so was the dog walker!
I have now gone a week without sighting a Waxwing and I am already suffering withdrawal symptoms.