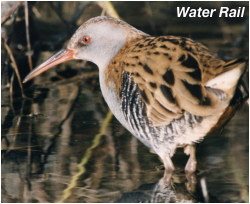 Who would have thought that after intensively watching an area for more than forty years you could find a new bird whilst walking the dog. Well, on the sixteenth at dusk, I threw a biscuit into the local Trub brook to encourage my golden retriever to dive in to get all the dirt off him. As he plunged into the water a Water Rail flew out from under the bank and was last seen flying off towards the sewerage works – the first Water Rail I have ever recorded in the area!
Waxwings are still around but berries are now few and far between. On the fourteenth I filmed sixty feeding on yellow berries at Hyde and on the seventeenth seventy were feeding on white berries in a cemetery at Oldham. How much longer they remain with us remains to be seen
At two thirty pm on the twelfth, ten Whooper Swans flew over Hopwood from a North West direction and disappeared East in the direction of Tandle Hill. I understand that a few minutes later they landed on Hollingworth Lake.
In the early hours of the fourteenth I was awakened by a Tawny Owl calling in the trees outside our bedroom window. This was answered by several House Sparrows chirping in our attic! Did they know they were safe?