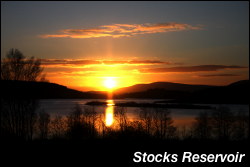 Since last weeks entry we have had eight wonderful frosty and sometimes snowy Winter days. The highlight has got to be the return of the Willow Tit to the garden on the second after an absence of more than two years. It came daily until the sixth but has not been seen since. Blackbirds peaked at thirteen one morning with twenty four House Sparrows seen together another day
What about Waxwings? Well a hundred at Offerton on the third of January followed by at least fifty on the fourth, only one on the fifth. However, on that date there were seven back in Middleton and these increased to eight on the sixth then down to five on the seventh. None seen since.
On Hopwood there was a good flock of twenty four Redpolls going to roost on the eighth January and amongst the vast flock of Corvids there was an albino Carrion Crow.
A visit to Stocks reservoir on the fifth January produced a great sunset but the Starlings there did not perform for the camera. The feeding station there had at least twenty Coal Tits present plus a male Great Spotted Woodpecker. Two Little Owls were seen including one on a fence post by the roadside as we drove home over Pendle Hill.
The North Staffordshire moorlands had a fantastic hoar frost on the tenth and two forlorn Kestrels trying to find prey at dusk. A Woodcock flew across the road in front of the car well after sunset on its way to feed.
Yesterday I spent twenty minutes washing bird droppings off the car but was delighted to do so as they had been produced two hours earlier by seventy Waxwings sat in a tree above the car. It was like falling hail in a Summer storm!!