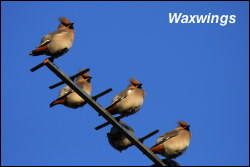 Since last week's blog it has been non-stop Waxwings with some incredible Winter weather with minus seven degrees one night and a maximum day temperature on the thirty first of minus three degrees. Not the sort of weather to spend three hours in the open in a Rochdale garden waiting for Waxwings!!
After last weeks finding of Waxwings in Tweedale Street the next day they peaked at thirty two before all the berries had been devoured and they moved on to Norden, where a new peak of fifty three occurred at Caldershaw Road on the thirty first December. Whilst filming these in a garden I was amazed to find two male Blackcaps feeding on the same berries.
New Years day produced an incredible hoar frost and my third grand slam of the Winter with a Jack Snipe at dawn in the Thornham fields, fifty plus Waxwings at Offerton in the late morning and two Woodcock in Hopwood woods at dusk. What a start to the year!
The garden continues to attract daily eight to eleven Long Tailed Tits, Jay,Wren, Goldcrest and the first Reed Bunting of the Winter but, unfortunately, the male Bullfinches have stopped coming.