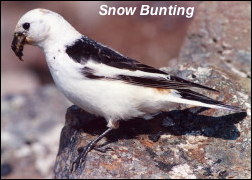 Two days after my entry last week about Waxwings I was filming twelve on Rowan trees near Whalley on the most perfect day you could have imagined. I had almost forgotten what a fantastic bird they are and the three hours behind the camera lens passed very quickly. Although in typical Waxwing fashion I only had ten minutes of video to show for it!
Early morning on the twenty second, as I crossed a moorland road above Burnley, eighteen Snow Buntings landed on a gravel path only to be flushed by the only jogger in the area. These are the only Snow Buntings I have ever seen on my local moors and almost surpassed the views I was to have of the Waxwings.
On day three of the Waxwings a Sparrowhawk flew through the flock and sent them off in a southerly direction not to be seen again that day. The big question is when will they arrive in my area around Rochdale / Oldham / Middleton?
In Hopwood woods more Woodcock have now arrived and in the garden we had both male and female Sparrowhawks on the same day. The male looking like last years gem bird.