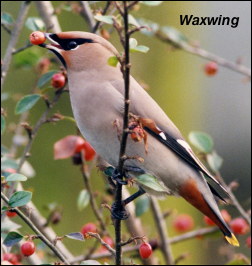 It must be only a matter of days now before we have Waxwings feeding on local berries with over a hundred in the Penrith area and a northerly wind forecast they should soon make their way South. I checked over a dozen Rowan trees today that had berries on them and every one had a Mistle Thrush guarding them so the Waxwings are in for a fight when they arrive. There is, however, a huge Hawthorne crop and these may be an easy alternative.
I flushed my first migrant Woodcock this week in Hopwood Woods and there should be many more to follow when we have some Easterly winds.
Wherever you go there are parties of Long Tailed Tits and on a perfect morning on the twelfth at Dovestones reservoir eight Long Tailed Tits were the only decent birds that I saw.
During the week the garden has continued to impress with a first visit of the Winter of a female Greater Spotted Woodpecker ,which now seems to be a daily visitor as does the Jay,.Goldcrest and Long Tailed Tits came one morning. We now regularly have more than twenty House Sparrows and twenty Greenfinches.