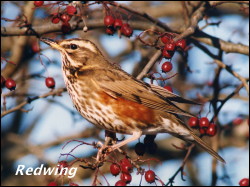 On the third October the first of six Redwings of Autumn were feeding on the Hawthorn berries along the canal – four days later than last year's early record.
A Buzzard was hunting on the Golf Course and there are still Goldcrests present and Jays are everywhere with the good Acorn crop. Several parties of Long Tail Tits are around and a Speckled Wood butterfly was seen on the third October.
Greenfinches continue to increase in the garden with a peak of twenty four on the fifth October.