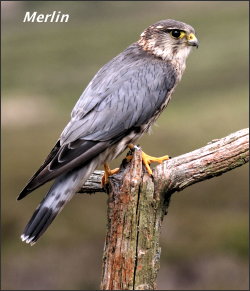 After last weeks disappointment with egg collectors this week has been more rewarding and the weather has remained dry and sunny all week.
Locally three different Whitethroat's nests have been found and some great video of one pair with five young about to fledge. What a joy it is to film a species that feeds its young every few minutes rather than a three hour wait for a Merlin feed. Talking of Merlins I have had an unsuccessful attempt to film the male Merlin's plucking post but this weeks picture shows I had better luck last year! – What an absolute gem he is.
The highlight of the week has undoubtably been filming Green Woodpeckers with young about to fledge. Only the female fed the young at thirty minute intervals and one or two of the young would lean out of the hole to meet the female, calling loudly, it was all action and on one occasion a Great Spotted Woodpecker came to the hole but soon flew off when a young stabbed at it.