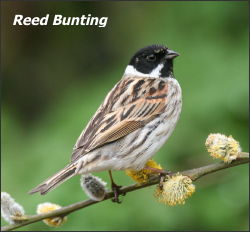 Still snow on the hills even as late as the 12th April. This is having a marked effect on the breeding season with one pair of Long Tailed Tits only now lining their nest with feathers, having commenced building twenty two days ago! It has been stop – start ever since.
Several days have been spent searching for Woodcock nests but none have been found – it is now four years since I found one! In consolation three Dippers nests have been found and I saw my first three Swallows on the tenth – the same day I saw a Brambling.
An hour was spent under the camouflage cloth trying to film an albino Carrion Crow. I didn't actually fail as it fed in the field I expected it in, only it would not come closer than fifty feet.
The highlight of a cold, wet week has been four male Reed Buntings feeding in our garden – a record number for us. I suspect they are coming in off the nearby Golf Course where there have been up to twenty nine feeding on an area of burnt grass.