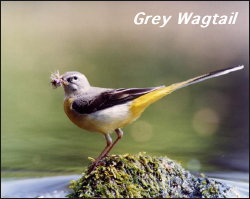 There have been several wet days this week and only one visit to the local Golf Course. Goldcrest and two Grey Wagtails were the only decent birds seen. Grey Wagtails must be on the move as today, one was in our front garden on our bird bath – an unusual garden bird.
A visit to Dovestones reservoir produced a Green Woodpecker and a flock of thirty plus Siskins feeding on the good crop of Larch cones. Although there was some good sunlight they stayed in the tree tops but there may be opportunities to film them during the rest of the Winter once they start feeding lower down. Coal Tits were also present though they were taking their seeds and burying them in the forest nearby.
There are very few Hawthorne and Rowan berries around this Winter and all the Redwings and Fieldfare have moved through.